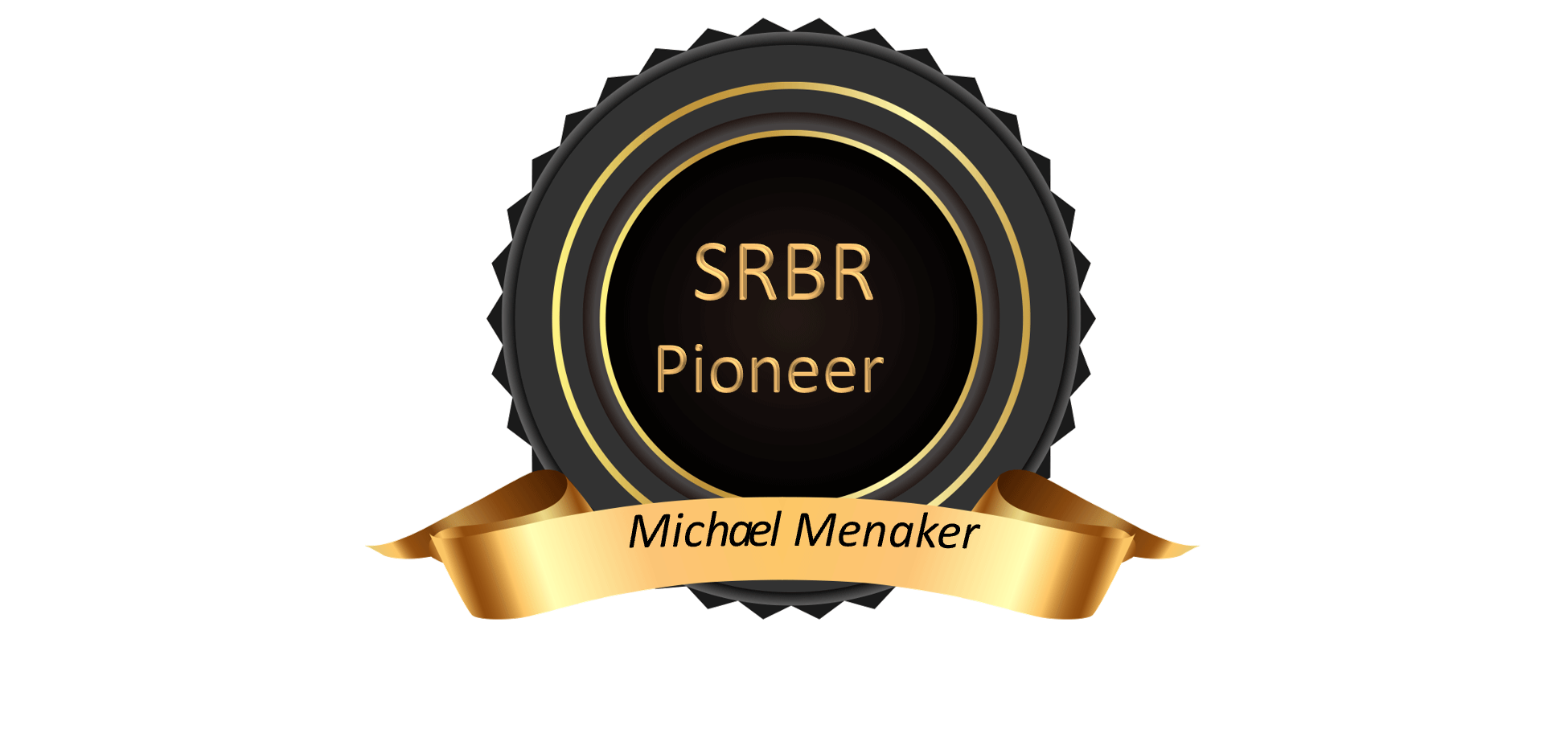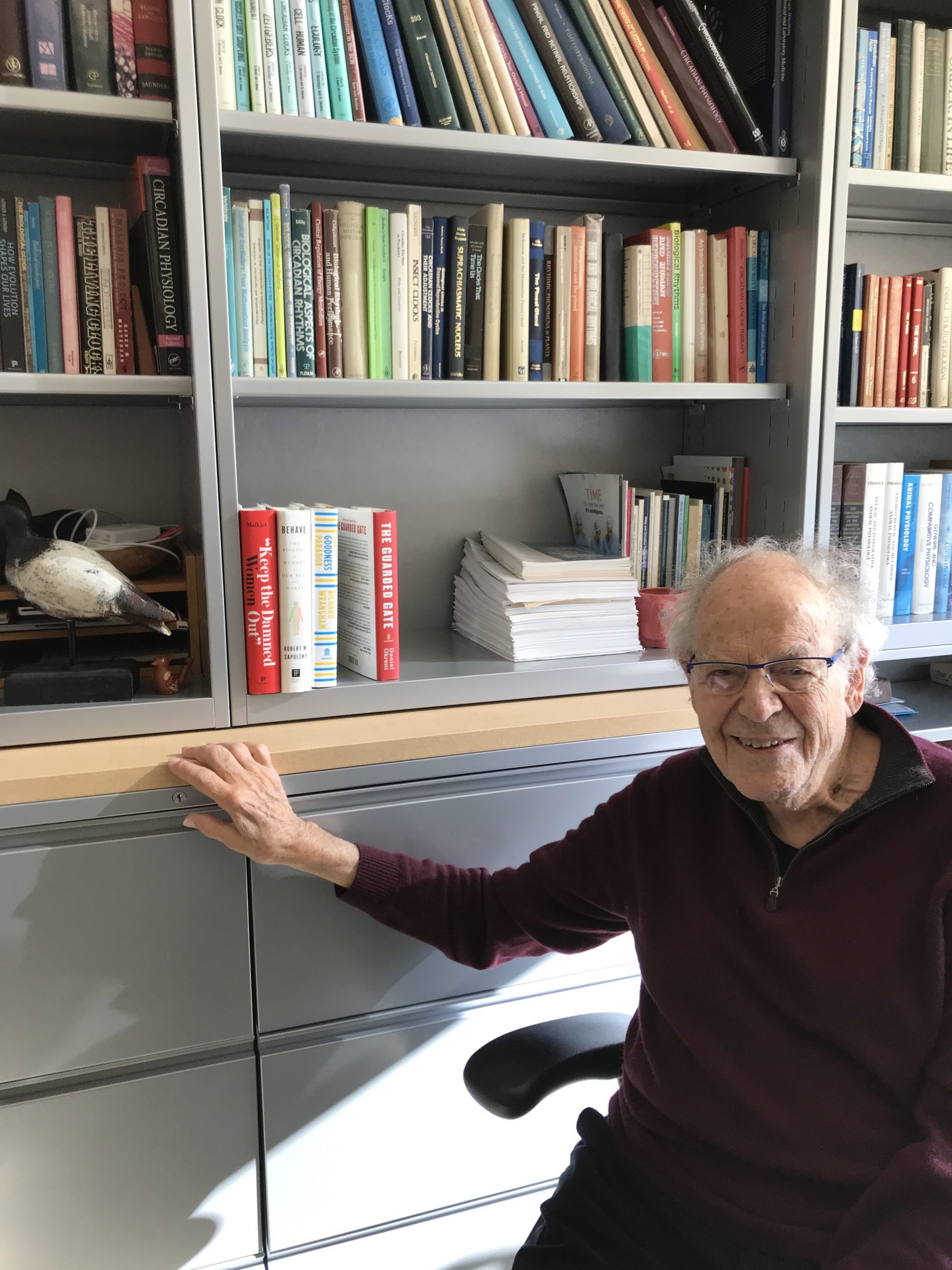 We honor Dr. Menaker, who is widely considered a giant in the identification of vertebrate circadian pacemakers and their physiological analysis.  Mike and his colleagues pioneered lesion and transplantation studies in birds and rodents to discover that the avian pineal generates daily rhythms in melatonin that drive sleep-wake cycles and demonstrate that the period of the suprachiasmatic nucleus (SCN) dictates the period circadian behaviors. From his first publication in 1961 revealing intrinsic annual and circadian rhythms in bat temperature regulation, Mike focused on how biological clocks coordinate with the environment.  He established principles of circadian organization. His studies on diverse organisms including iguanas and rodents illustrated how multiple tissues act as circadian pacemakers with some coordinating others in a hierarchy of influence and sensitivity to daily cues like light and food. His discovery, for example, of a circadian pacemaker in the hamster retina caused a major revision in our understanding of the SCN as the central clock in a network of clocks in mammals.
It is fair to say we have all benefited from Mike's contributions. In addition to publishing more than 200 papers, Mike was a mentor to literally hundreds of trainees, many of whom are now leaders in their own right.  He advocated for the field to help found the NSF Center for Biological Timing, collaborated internationally and generously, spoke eloquently at meetings, and asked questions that caused us all to integrate our thinking.  As his former graduate student, Joseph Takahashi, said, Mike "was a rare and precious leader and pioneer." (Click here to read the full tribute by Joseph Takahashi published in JBR).
Ali D. Guler

Carrie Partch

Clark Rosensweig

Daisuke Ono

Shihoko Kojima

Erik Herzog

Hitoshi Okamura

Horacio de la Iglesia

Jadwiga Giebultowicz

Christopher Chabot

Karen Gamble

Karyn Esser

Kathryn A. Roecklein

Tomoko Yoshikawa
His contribution of Biological Rhythm Research is huge. He is really one of the top brilliant biologists with broad knowledge with flexible astonishing way of understanding the truth of nature. I really learned a lot directly from him speaking in international meetings, and indirectly through his manuscripts in Science and Nature. "
"Dr. Menaker taught my first graduate course in chronobiology, called "Biological Clocks," at the University of Virginia. I learned the foundational circadian principles from him and his co-instructors. More importantly, I learned the value of careful and creative research design, personal connections with other researchers, how to be a generous collaborator, and the importance of face-to-face interactions with colleagues. He was a great teacher, and I knew at the time that it was a unique opportunity to take his course. Even though he was a "giant" in the research field, he was a very personable mentor and approachable Professor. Dr. Menaker is a perfect choice for the inaugural SRBR Pioneer Program. "
KATHRYN A. ROECKLEIN
"I first met Dr. Menaker at the Chronobiology Course in the summer of 1992, at UVA. From the very first class, I was amazed by Mike's enthusiasm, his ability to listen to young students, and his story-telling way of giving crisp-clear lectures and talks. One would think that that amazement from who was then a starting grad student just arrived from South America would fade away with the years… it never did, Mike continued to impressed me with his science and his presentation of it until his very last days.
"He has been a wonderful mentor and friend. He always encouraged me to try."
"Mike was the indeed a great leader in the field and I think that part of that greatness was his ability to spark interest in his colleagues and in the students in his lab. In conversations with Mike, he often related wonderful insights into developing wonderful insights into developing issues as well as providing the "big picture", especially to his younger, more naive graduate students. His passion for science was contagious and exciting. I came to his lab hoping only to gain credentials so that I could pursue my love of teaching at the college level but I also left with a love for doing research.  I have been able to pursue both these loves for 25+ years because of his support early in my career – Thanks Mike!
"Mike was the kindest and most helpful promoter of young people in chronobiology. When I was working on circadian clock in moth testis, Michael visited university of Maryland and I told him about my work. Later that year, he was chairing the first (?) SRBR meeting and mention my work in the opening remarks. This led to Jeff Hall and Mike Young contacting me about collaborating on Drosophila clocks, because they just located per in fly testis. The rest is history.."
If you would like to contribute, please click the donation form button, complete the online form and we will contact you with next steps. You can submit a testimonial to go with your donation on the form.