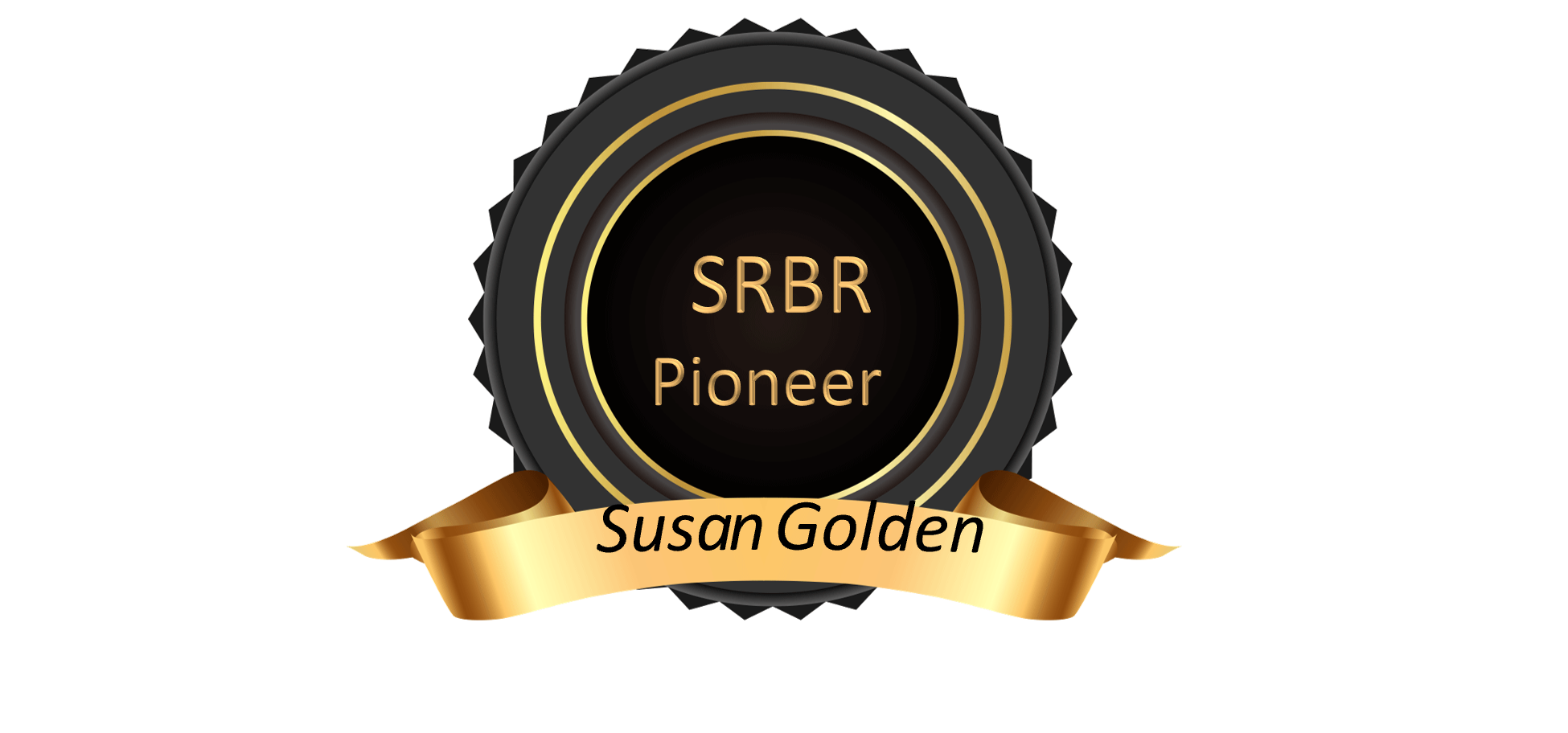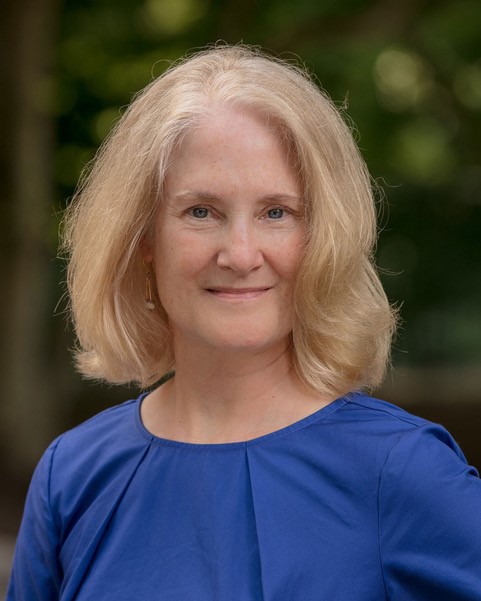 Archana G. Chavan
Carrie Partch
Susan Cohen
Ben Rubin
Thammajun Wood

Natalia Ivleva
Dustin Ernst

Yonggang Chang

Joel Heisler

Guogang Dong
Jayna Ditty
Andy LiWang
John Vakonakis
Anonymous donors
It is my privilege to nominate Dr. Susan Golden for the SRBR Pioneer Award. Susan is a pioneer in the field of the cyanobacterial circadian clock, an educator, and a mentor for many. I am immeasurably indebted to Susan for her inspirational support which contributed in no small way to my post-doctoral career at UC, Merced. In particular, I would mention her collaboration and encouragement in elucidating the atomic details of the inner workings of the cyanobacterial clock KaiABC as presented in prestigious journals including PNAS and Science. Since 2018, I have been working at Monash University in Melbourne, Australia, where I am researching the link between circadian clock and cancer; this move was supported by, among others, Susan's enthusiastic personal recommendation. Furthermore, her promise of any further references I may require testifies to her concern for the careers of those she has mentored and inspired. I cannot speak too highly of my esteem for Dr. Golden.
It is my great honor to nominate Susan S. Golden for the SRBR Pioneer Award. We are all aware of her amazing and pioneering work in the field of circadian clocks. Thus, I will provide a personal testimonial on her invaluable impact on my academic career. I am immensely indebted to Susan for being my guardian angel and friend since taking my first baby steps as a new assistant professor at Texas A&M University a quarter of a century ago. As a postdoc, I was trained in NMR methodology and thus as an assistant professor did not have a biological system to get my new lab started. Sitting in my office, I would spend day after day flipping through journals looking for a biological nail I could hit with my NMR hammer. It was getting depressing. My unsolicited e-mails asking corresponding authors of interesting papers if they wanted to collaborate went unanswered. Who could blame them? I kept the lab lights off to save energy. Then, one Friday evening while sitting in my office with stacks of journals, a colleague poked in his head and asked if I wanted to have beers with faculty from the Biology Department (I was in the Biochemistry & Biophysics Department). My decision to go drink beer was the most important one of my entire academic career. As a newbie, I was meeting Biology faculty for the first time. I introduced myself to my new Biology colleagues and the woman sitting directly across from me replied, 'Hi, I'm Susan Golden.' Imagine how my career might have turned out if I sat several seats away from Susan. After telling me what she studied, I asked, "What's a circadian clock?" From this moment on, I was hooked and she very patiently nurtured my slow growth into this new field, including initiating joint group meetings and inviting me to give talks at local clocks conferences. In fact, when my lab had no more than a handful of data Susan told me that I will be giving a talk at SRBR in the same time slot as her postdoc, with one of us speaking before the other. These are just a couple of examples out of numerous others illustrating why I like to call Susan my guardian angel. I love brainstorming ideas with her (although I still ask a lot of dumb questions) and appreciate so very much our mutual trust and friendship that underpins our decades long collaboration. I have derived decades of immense pleasure working with Susan and am tremendously grateful to be in her wondrous orbit. In conclusion, Susan richly deserves the SRBR Pioneer Award not only for being a passionate pioneer of circadian clocks, but for launching the careers of many scientists, including mine, with equal passion.
I am very fortunate to have got opportunities to collaborate with Prof. Susan Golden when I was a postdoctoral researcher in Prof. LiWang's lab at UC Merced. Prof. Golden has been a co-mentor to me for our joint research project and had helped me visualize the importance and impact of research by setting clear goals. I especially learned many valuable lessons in communication and writing complex ideas in clear and simplified manner. I deeply admire her passion not only for research but for encouraging young researchers and students by making us aware of the impact we can make. She is a role model to me and others for championing in high quality research, passionate mentoring and public outreach. Prof. Golden is true inspiration for many young researchers like me.
Susan has been a pioneer in the field for many years. I have personally seen how she has advanced the field through scientific insight and been at teh forefront of developing new techniques with collaborators to obtain otherwise elusive information. I have also seen how she emphasizes the training of undergraduate students and has been innovative in the field of student instruction, in particular through her bioclocks studio. She continues to innovate and puch the forefront of research and education related to circadian behaviors.
Susan is an amazing scientist, wonderful mentor and an all around great human being. She possesses a true wealth of hard-earned scientific knowledge and experience. Her support throughout the years has helped me immensely along my scientific journey. I feel proud to tell others that I worked with Dr. Susan Golden.
it is my great pleasure to nominate Dr. Susan Golden, my former graduate and postdoc advisor, for the SRBR Pioneer Program. As a pioneering scientist contributed significantly to identification and functional analysis of KaiA, KaiB, and KaiC, the central oscillator proteins counting the circadian clock in cyanobacteria, Susan has always been enthusiastic in encouraging collaborations among and even beyond circadian clock labs. When I was working on a novel allele of KaiA during my graduate study, Susan proactively suggested to work with a prominent protein lab to elucidate the mutant phenotype at the structure level. Indeed, the interaction between KaiA and KaiC was strengthened, which further enhanced our understanding of the mechanism of the central oscillator. In addition to research, Dr. Golden is also very passionate in establishing training programs, such as the BioClock Studio, for future circadian clock scientists. I sincerely believe Dr. Golden is a strong candidate for your program. Please do not hesitate to contact me for further information.
Dr. Susan Golden's openness to share her expertise and resources had a profound effect on my scientific career trajectory. Her astute knowledge coupled with the overwhelmingly positive research group environment she facilitated, made me a better scientist even as a distant collaborator.
There is so many great things I can say about Susan because she's just really good at what she does, but perhaps the most important to me is how supportive she was as a mentor. There was only one time I was unsure about how she felt about me and that was during my interview for the lab. After that she was squarely in my court trying to advance my career and pushing accolades onto me whenever she had the opportunity. This allowed me to focus on the science knowing that I was standing on a rock solid foundation.
I am excited to support Susan Golden's nomination as the SRBR Pioneer honoree. Susan had a great impact on my early career as she encouraged me to apply for the NSF fellowship, and was a great mentor while I did research in her lab. Throughout my years in Susan's lab, she built my confidence in my ability to develop and execute comprehensive research proposals to answer challenging scientific questions; these skills were crucial for my career in academics and industry. Susan is a role model for me as I always strive to meet the high standards she set. I particularly remember her focused effort to treat everyone equally and with respect, independently of their origin or gender; witnessing this in my early career positively impacted me as a scientific leader and empowered me to successfully lead scientific teams for the past 15 years. Thank you, Susan, for everything you do!
Susan is an outstanding scientist and role model – a true Pioneer!
I had the honor of obtaining my Ph.D degree while studying under the direction of Dr. Susan Golden, who turns out to be the best advisor I could have wished for. Susan is an accomplished scientist in the areas of cyanobacteria and chronobiology, and an even more amazing teacher and mentor. She is incredibly patient, positive, and open minded. I remember always looking forward to sharing new data with her and discussing various ideas, many of which didn't work out, yet I always came out of those meetings feeling excited and motivated. Susan also taught me the value of collaboration, through which people with different backgrounds can achieve greater goals. Susan is very kind and supportive, and puts her students and postdocs' interest first. She has prepared me well for a career in science, and I am proud to nominate her for the SRBR Pioneer award!
I was fortunate to work with Susan during my PhD, at Texas A&M University, on gaining the first structural insights into Cyanobaterial clock proteins. Susan has the amazing gift of brightening up every conversation and enthusing everyone around, and I was similarly captivated when she introduced me to the importance of circadian rhythms and their molecular mechanisms (an area I had not studied before). Together with Susan and my PhD advisor, Andy LiWang, we had lots of fun delving into the mysteries of KaiA, KaiC and SasA, and trying to piece the system together like an partly blind watchmaker! I owe Susan and Andy a massive debt for putting me on a path of scientific discovery, and influencing my career for the next 20 years!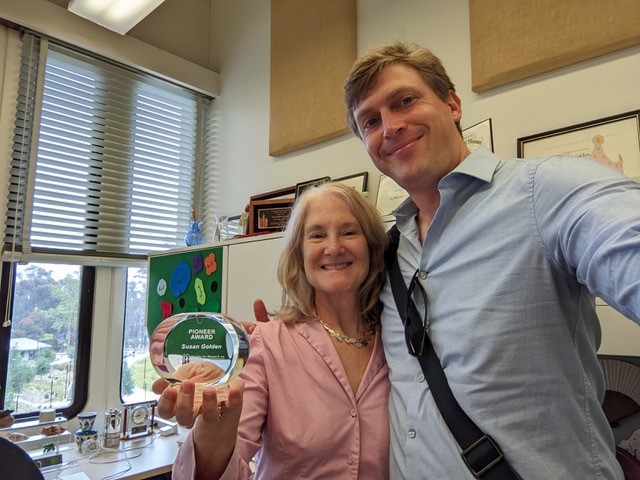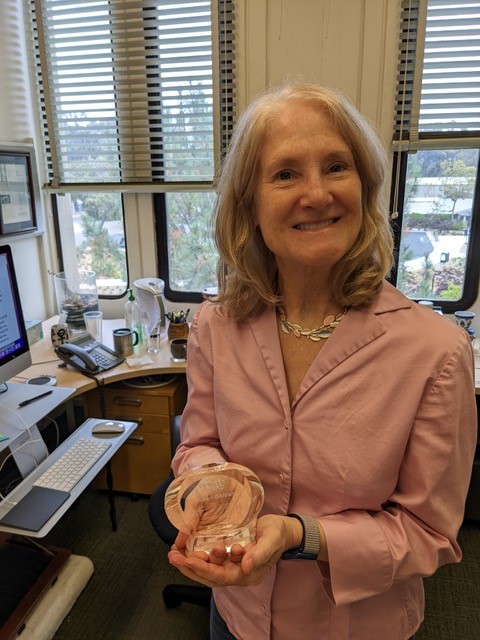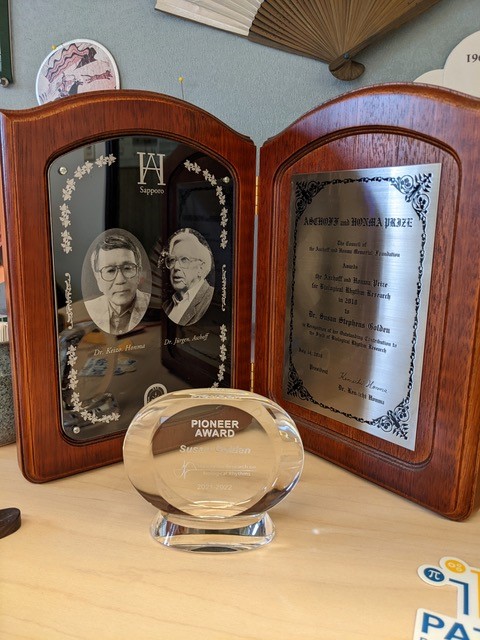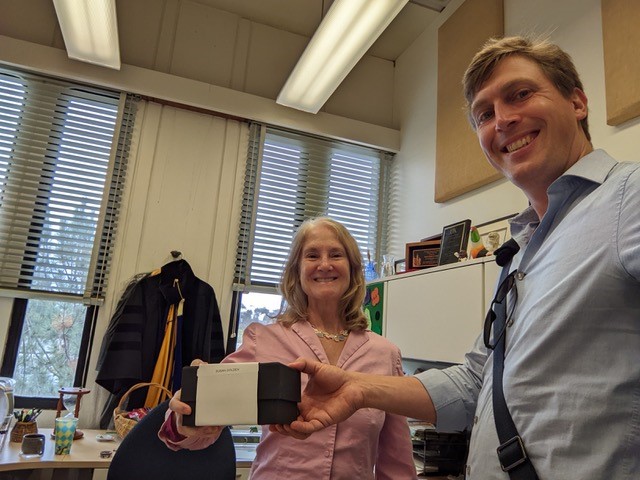 If you would like to contribute, please click the donation form button, complete the online form and we will contact you with next steps. You can submit a testimonial to go with your donation on the form.