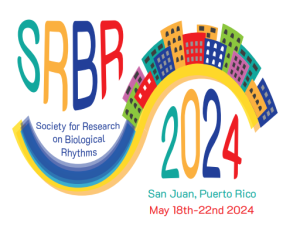 Congratulations to the SRBR 2024 Logo Competition Winner
Congratulations to Nicola Smyllie from MRC Laboratory of Molecular Biology, Cambridge for winning the SRBR 2024 Logo Competition! The logo is inspired by the beautiful skyline of San Juan, with its colorful buildings dotted along the shoreline. The primary color palette was taken from the buildings and married with a suitably wavy shoreline which also included a big, bold oscillation at its center!" You can read her complete narrative on the logo below. The logo will grace the SRBR t-shirts and marketing materials for the meeting.
A celebration of clocks – The last few years have been both a time of uncertainty but also a time of healing and the coming together of global communities in the face of adversity. Of course, there are still many challenges that we face globally, within our own countries, and within our scientific communities, but I am also confident that there is hope for our future. A central theme to my logo design is therefore "joy" – a celebration of our SRBR global community.

I was excited to hear about the location of the next meeting: San Juan, Puerto Rico. Immediately, I knew that I wanted to incorporate the beautiful multicoloured skyline of the striking Spanish Colonial buildings into my logo design. The colours of the buildings fit perfectly within the theme of "joy" and so I decided to repeat them throughout to give a vibrant, impactful design.

Puerto Rico, being an island nation, is surrounded by beautiful beaches. I felt that this was a great opportunity to marry together the sand and the sea into a big, bold wave. Indeed, in my opinion, an SRBR logo could not be without an oscillation at its centre! I wanted to keep the type of oscillation ambiguous, so that it can be relatable across all types of rhythms and organisms. I used multiple colours for both the sand and the water, slightly offset from one another to give a sense of jitter and noise that is frequently found in biological rhythms, but together they form a coherent, synchronised wave.

So, let's continue to joyfully celebrate biological clocks, together, into the future!

Nicola Smyllie
MRC Laboratory of Molecular Biology, Cambridge, U.K.